Printing at the U
Printing at the University of Utah is now easier and cheaper than ever! With Managed Print Services (formerly Copier Fleet Services) expertise and reliability on campus, you'll never have to worry about printing again.  Whether you are a student, staff member or faculty, MPS is here to help all campus partners. You can find a variety of resources below that will guide you in the process of implementing our RedPrint system and start printing right away. Please contact us to find out what printing options might work best for you. The U's Printing Experts are here to help. 
How to print
Everything a student or employee needs to know in order to set up and utilize RedPrint can be found here.
Contact us
Have a question, comment or concern? Our team is standing by from 8:00AM to 4:00PM Monday through Friday, ready to help with your printing needs.
RedPrint Locations ACROSS CAMPUS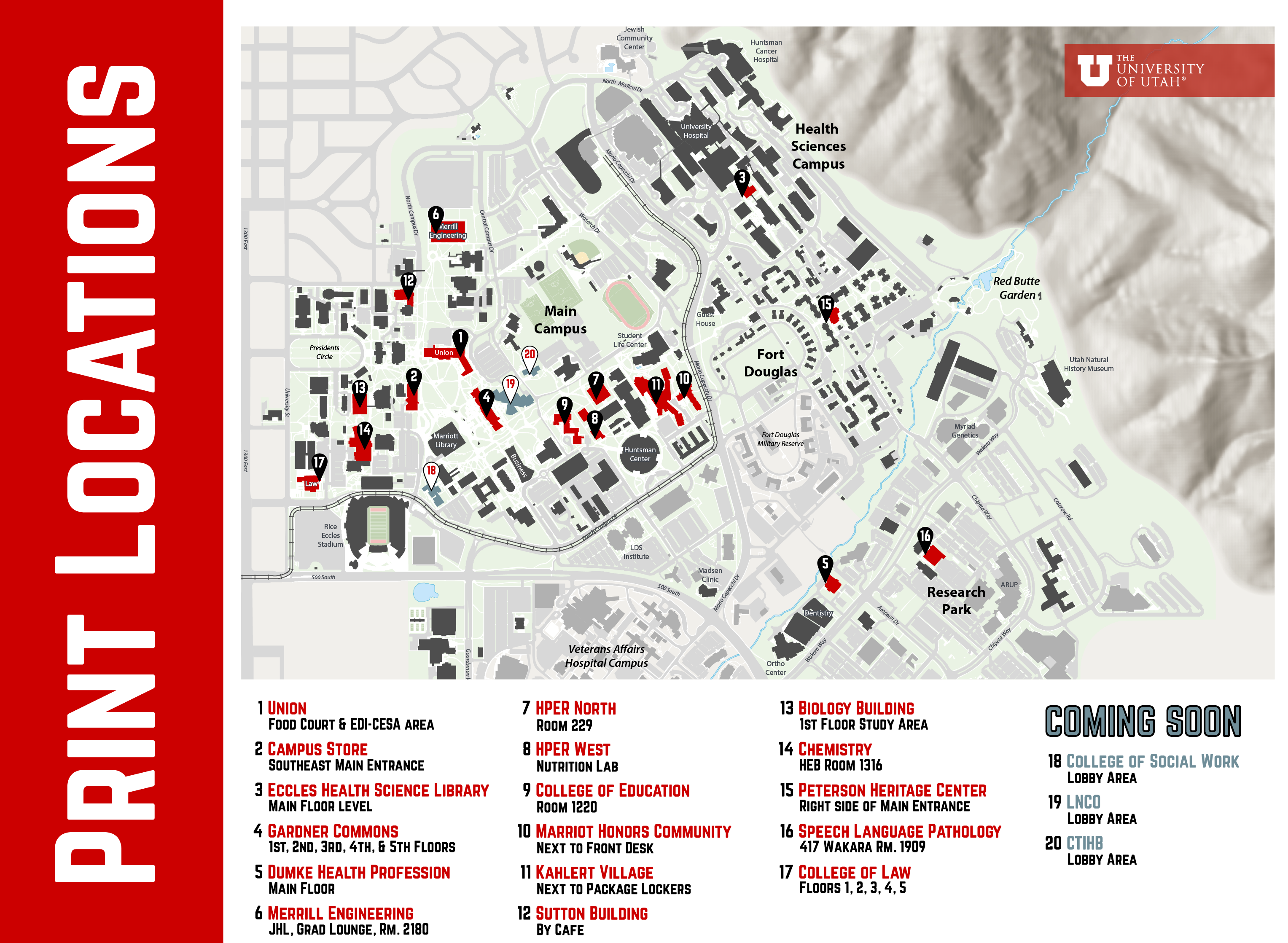 Union Food Court - by Einstein's 
Campus Store - main entrance 
Eccles Health Science Library - 1st & 2nd floors
Gardner Commons - 1st, 2nd, 3rd, 4th & 5th floors
Dumke Health Professionals Building - main floor
Merrill Engineering Building - Room 3429 lab
HPER North - Room 229
HPER West - Room 108
College of Education - 3rd floor workroom
College of Law - 1st, 2nd, 3rd and 4th floors 
Marriott Honors Community - next to front desk
Kahlert Village - next to package lockers
Sutton Building - by café
Biology Building - 1st floor study area
Chemistry Building - Thatcher Room 1316
Peterson Heritage Center - 1st floor lobby 
Coming soon:  College of Social Work, LNCO, CTIHB, McKay Music Library